Office Hours
Monday-Thursday
8:15 am - 4:45 pm
Friday
9:00 am - 4:30 pm
---
Phone Hours
Monday-Thursday
8:30 am - 4:30 pm
Friday

9:00 am - 4:30 pm
Closed on weekends and holidays. Hours subject to change.
Important Announcements & Deadline Dates
Financial Aid, CA Dream Act & CalFresh Workshops
---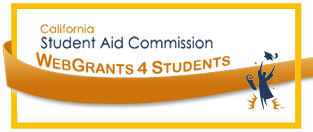 WebGrants 4 Students is your portal for Cal Grant, Chafee and Middle Class Scholarship awards. The California Student Aid Commission (CSAC) contacts students by email so it is critical that you keep information current on your WGS account. Visit CSAC's FAQ page.
---
Avoid financial aid fraud! Don't pay to fill out the FAFSA - it is a free application.
Next Campus Closure Date
---
Both 2016-2017 and 2017-2018 FAFSA/Dream Act requires last year's (2015) income and tax information.
Complete your 2017-2018 application as soon as possible to maximize your Fall 2017/Spring 2018 financial aid eligibility.
The priority filing date for FAFSA, Dream Act Application, and the California Student Aid Commission's (CSAC

) GPA verification deadline for Cal Grant consideration is:
March 2
But DON'T wait until March 2! Apply as soon as possible!
Need help applying? RSVP to attend a workshop for assistance.
Students MUST be enrolled at least half-time to be eligible for financial aid:
6 units - Undergraduate/Credential
4 units - Graduate
---
Parents who do not have a social security number will not be able to create a FSA ID and will have to sign their student's FAFSA by completing a signature page and mailing the page to FAFSA.
---
If selected for 2017-2018 verification, all requested financial aid documents must be completed by 4:30 pm, on April 28, to be considered for maximum 2017-2018 funding.
To qualify for a tuition fee deferral and prevent enrollment cancellation, students selected for verification must complete all requested financial aid documents by:
June 30, 2017 for Fall 2017
December 14, 2017 for Spring 2018
---
What is a Tuition Fee Deferral
---