Office Hours
Monday-Thursday
8:15 am - 4:45 pm
Friday
9:00 am - 4:30 pm
---
Phone Hours
Monday-Thursday
8:30 am - 4:30 pm
Friday

9:00 am - 4:30 pm
Closed on weekends and holidays. Hours subject to change.
---
View Financial Literacy to help you get started on better money management today!
---
Avoid financial aid fraud! Don't pay to fill out the FAFSA - it is a free application.
Campus Closure Dates
November 11, 24-25
---
Loan Sequestration
Students will NOT be able to accept loans from Wednesday, September 28 to Sunday, October 9.
Loan fees charged by the Department of Education will increase beginning October 1, 2016. The new loan fees will increase by 0.001 percent for Direct Subsidized and Unsubsidized Loans and by 0.004 percent for Direct PLUS Loans. Due to this, students will NOT be able to accept loans from Wednesday, September 28 to Sunday, October 9, in order to allow time to create the change.
---
Previously, the FAFSA and Dream Act Application was completed every year beginning January 1.
However, for the Fall 2017 - Spring 2018 Academic Year, the 2017-18 FAFSA and Dream Act Applications will become available on October 1, 2016. RSVP to attend FAFSA in October? workshop.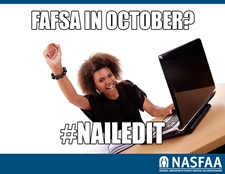 The priority filing date is March 2. The California Student Aid Commission's (CSAC) GPA verification deadline for Cal Grant consideration is also March 2.
---
Parents who do not have a social security number will not be able to create a FSA ID and will have to sign their student's FAFSA by completing a signature page and mailing the page to FAFSA.
The FSA ID will be used to log into federal student aid websites, such as:
---
Satisfactory Academic Progress (SAP) Holds

November 11, 2016 - Fall 2016 Petition deadline
April 6, 2017 - Spring 2017 Petition deadline

July 8, 2016 - deadline to have all requested financial aid documents completed to qualify for a Fall 2016 tuition fee deferral
September 1, 2016 - tuition fee deferral removed from MySJSU
Payment due dates
Deadline to accept loans
and other important announcements and deadlines.
---
Students selected to receive a MCS are notified by the California Student Aid Commission (CSAC). Awarding of the MCS typically occurs in October. Contact the Financial Aid and Scholarship Office if you were notified by CSAC, and have not been awarded.
California Student Aid Commission (CSAC)
WebGrants 4 Students (WGS) is your portal for Cal Grant, Chafee and Middle Class Scholarship awards. The California Student Aid Commission (CSAC) contacts students by email so it is critical that you keep information current on your WGS account. Visit CSAC's FAQ page.
---
---
Online Learning - Spartan Success Portal
Online workshops aimed at helping students succeed. All workshops are confidential, informational and available 24/7. There are workshops on Academic & Career Exploration, Reading & Writing Strategies, Personal Management, and Learning to Learn. To join a workshop, click on Spartan Success Portal.