Important Announcements & Deadline Dates
---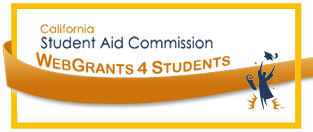 WebGrants 4 Students is your portal for Cal Grant, Chafee and Middle Class Scholarship awards. The California Student Aid Commission (CSAC) contacts students by email so it is critical that you keep information current on your WGS account. Visit CSAC's FAQ page.
---
2018-19 finanical aid application requires 2016 income tax
2017-18 financial aid application requires 2015 income tax
Avoid Common Errors on the FAFSA
Get it...Got it...Check it off... 2018-19 FAFSA Checklist
CA Dream Act (DACA Information)
---
Awarding and To-Do List Items
Financial aid award is based on the submission and completion of To-Do List items posted in a student's

MySJSU.
Only students selected for

verification will have items posted in their MySJSU and are required to submit To-Do List Items to begin the evaluation process which leads to financial aid award.
Students NOT selected for verification will NOT have documents assigned in their To-Do List, but should monitor their MySJSU for any changes.
Awarding for the 2018-19 academic year will begin as follows:
Fall 2018 admitted students: beginning in early March
Continuing (currently enrolled) students: beginning in July.
---
Parents who do not have a social security number will not be able to create a FSA ID and will have to sign their student's FAFSA by completing a signature page and mailing the page to FAFSA.

What to do if:
---
---
Priority filing date
The priority filing date, and the California Student Aid Commission's (CSAC) GPA verification deadline date for Cal Grant consideration is always:
March 2
Missed March 2 priority filing deadline? You can still apply!
Due to limited funding availability, you must submit your FAFSA/Dream Act application in early October (as soon as the application(s) is available) to be considered for priority funding.
Each award year, the priority filing deadling date may change based on fund(s) availability and applicant pool.
---
Students MUST be enrolled at least half-time to be eligible for financial aid:
6 units - Undergraduate/Credential Students
4 units - Graduate Students
---
Designed to allow high school & college students to estimate student financial aid eligibility information.
---